LINH LA
RYT 500hr teacher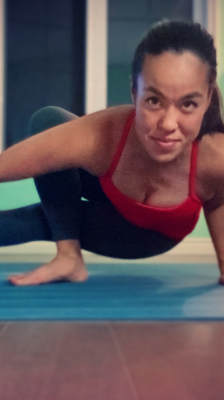 ---
Nice to meet you, yogi!
I'm Linh - a first generation Canadian, Regina native, middle-child millennial trying really hard to embrace the beautiful chaos that is life! I attempt (sometimes unsuccessfully) to balance many titles: daughter, sister, doctor, athlete, teacher, student, traveller, bookworm, scientist, introvert, knowledge seeker, nurturer...I like to believe I contain multitudes. I am the de facto "mom" in most group situations, and at my core, am driven by an instinct to take care of everyone around me.
Yoga Mala has long been mystic home. I first came to the studio as a high school student, drawn to the practice of yoga as it appealed to the former competitive gymnast in me. As my practice deepened, I began to appreciate asana as a moving meditation rather than just a series of stretches and shapes. From there, I followed the philosophical roots of yoga back to the same origins as many of the Buddhist teachings on which I had been raised. By the time I was part way through my first degree, I found myself wanting to share this practice that had been so therapeutic to me, and I enrolled in my first training. I spent the remainder of my academic career teaching through the University of Waterloo's campus rec program and upon graduation, completed a month-long 200hr immersion in alignment based yoga with Joy Morell. I then moved home to Regina where I completed both my 200 and 300 HR teacher trainings under Emma's tutelage. While my first love will always be creative, movement-based vinyasa flow, I have also come to appreciate sequencing that is slower and more exploratory, and even the occasional deep, static yin practice. Connected, in-person group classes are my bread and butter, but more recently, I have discovered that I also love teaching teachers! You will find me assisting Emma with training, where my areas of focus are yoga philosophy, anatomy and fundamentals of asana.
When I'm not in the studio or at work, you will often find me cleated up on a field somewhere playing ultimate frisbee and getting up to countless shenanigans with Korra, Regina's competitive women's team. I take being a dog mom very seriously and you will not find two fur babies more spoiled than my boys, Sonic and Sirius. (Sonic is a Yoga Mala "certified" canine teaching assistant who occasionally makes an appearance in my classes! Sirius is...working on it...) Being a food-loving stress baker means that the kitchen is my happy place and nothing brings me joy quite like being able to gratuitously feed a big group of my favourite people. Thanksgiving is my highest of holy holidays, and you will never hear me turn down brunch.
I look forward to seeing you on the mat soon!