ANDREA DOROSH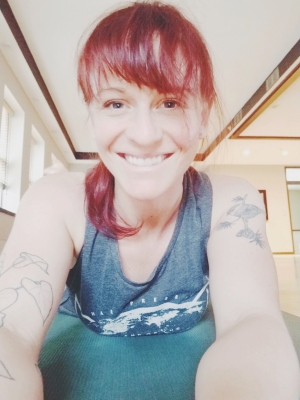 What's your teaching style? Finding the balance between strength and ease. I challenge students to focus and work hard while simultaneously resting into their practise. The joy is in the effort.
What do u have on rotation? CBC!! and I'm with Jenn – the wheels on my bike!!!
What Inspires you? Nature, kindness, authenticity.
Fav pose: Backbends make me happy, and I love the feeling of calm that comes from finding alignment in any pose, even the difficult ones.
Morning ritual: ideally: no alarm, cat cuddles, followed by coffee.
First yoga experience: ashtanga – wow! followed by full-body high in savasana.
Sign: Leo – Aquarius combo, fiery and unusual with a side of intense Scorpio and peace-loving Libra.
Food: nourished by plants!
A recurring thought: It's ok to not have all the answers. The mystery of not knowing what's around every corner creates endless possibilities in life. Be willing to go with the flow and enjoy the ride! Every challenge can be an opportunity to grow. Make peace with discomfort, it will always be a part of the journey.
My 'hood: Quietly nestled beside the park and creek in McNab. I love it!
A nonnegotiable: Kindness to animals and caring for the environment.
Fav coffee shop: Mostly my coffee press